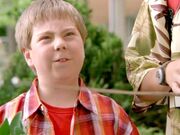 Бернард "Шош" Арангүрэн бол Стивенсийн гэр бүлийн залхмаар / тааламжгүй хөрш юм. Шош нь Стивенсийн харшид ихэвчлэн тэдний зөвшөөрөлгүйгээр гэртээ байгаа юм шиг санагддаг. Буурцаг нь гахайн махыг маш ихээр сонирхож байдаг бөгөөд үүнийг олон удаа дурддаг. Буурцаг нь бага сургуульд сурч, Күүкийн бага сургуульд сурч, Луисын амьдралд тогтмол оролцдог. Түүний ойр ойрхон дайрдаг тул Луис үл хүндэтгэх хандлагатай болж, буурцгийг орхин явахыг шаарддаг. Буурцаг бол домог юм.
Description/Characteristics
[
edit
|
edit source
]
Beans has many strange hobbies/skills, including:
Expertice in Dirt Moving
Liking Bird Plates
Obsession with Bacon
Skilled Bassist 

In the episode: Band on the Roof, Beans got a bird cage stuck on his head but still manages to play the bass in the roof concert. 
Status: Alive 
Community content is available under
CC-BY-SA
unless otherwise noted.